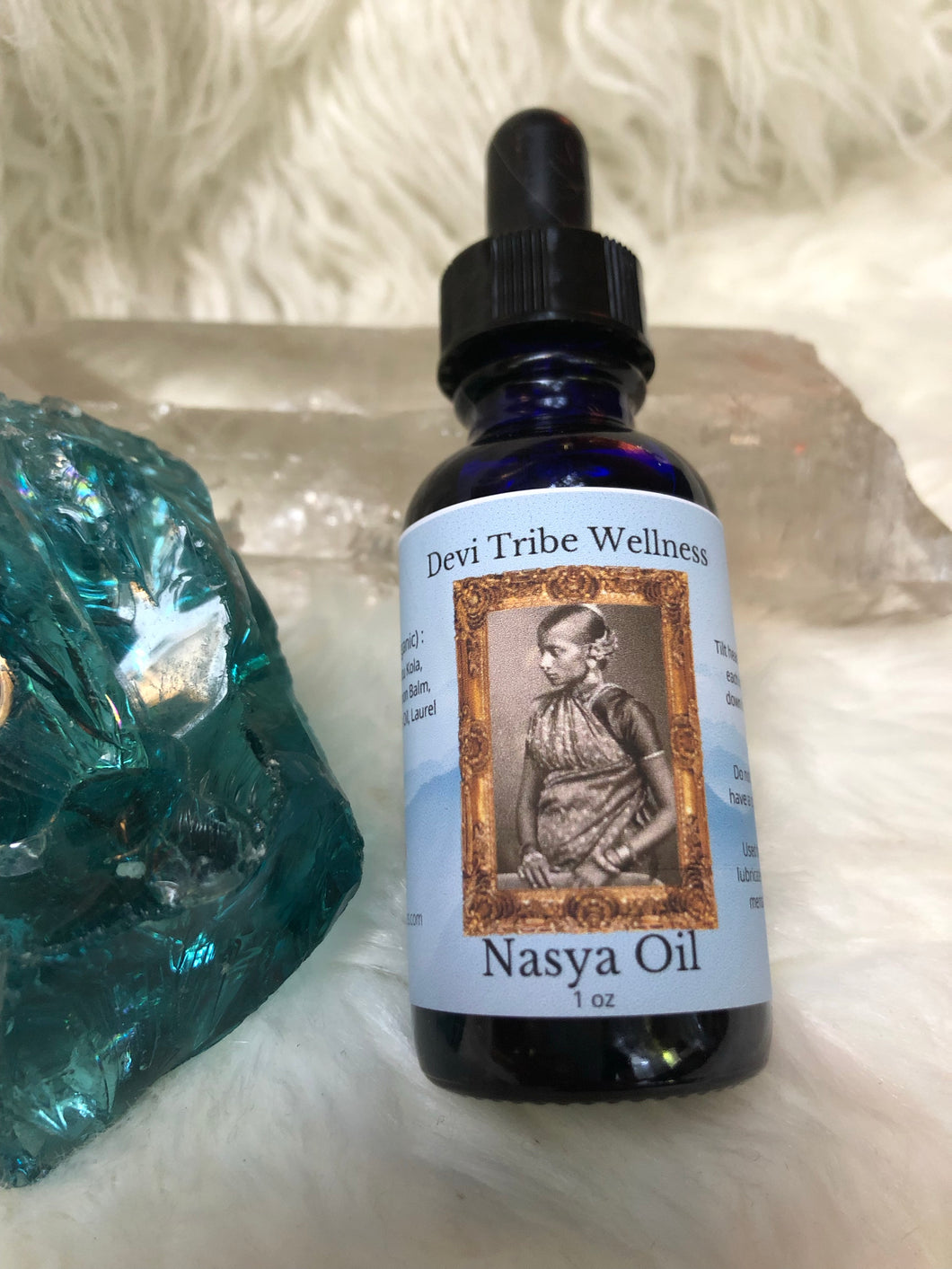 Nasya Oil - 1 oz. (30 ml)
Regular price $20.00 Sale
Nasya is a traditional Ayurvedic practice of administering medicinal herbs and oils into the nasal passages.

Our hand made Nasya oil is an herb infused oil that can nourish, protect and support the sinuses, nose and throat, clear congestion and support clear vision and voice. 
The nasal passages are a direct pathway to the brain and the doorway to consciousness. Through it, the breath carries prana, the vital life force into the body. It is vitally important to have healthy, unrestricted breathing in order to ensure proper flow of prana through the body. 
In addition, when there is excess build up of mucous in the sinus, throat, nose, head, etc. it is best eliminated through the nose. Administration of Nasya Oil helps facilitate this cleansing process, relieves sinus congestion and soothes and protects the nasal passages. Daily nasal lubrication via Nasya helps release tension and pressure in the head and relieves accumulated stress.

It is a wonderful practice for those who may feel fatigued, foggy, congested, depressed, suffer from TMJ, headaches or have recurring sinus issues. It can also be used as an extra layer of protection in the nasal passages from outside pathogens. 
DIRECTIONS: Tilt head back and drop 3-5 drops in each nostril. Sniff deeply and lay back for 5 minutes if possible. Administer Twice daily, morning and afternoon (or when going out in public and when returning for extra protection and clearing of environmental toxins. You can do Nasya in the evening if desired but it is advised not to do immediately before going to bed.
Ingredients: (Organic) Sesame Oil, Brahmi, Tulsi, Gotu Kola, Calamus oil, Eucalyptus, Laurel Leaf

Warnings & Disclaimers:
Not for use by pregnant women. As with any dietary or herbal supplement, you should advise your health care practitioner of the use of this product. If you are nursing or considering pregnancy please consult your health care practitioner prior to using this product.



These statements have not been evaluated by the Food and Drug Administration. This product is not intended to diagnose, treat, cure, or prevent any disease. Consult your physician or midwife if pregnant or nursing. 
*** SHIPPING: ALL PRODUCTS REQUIRE 3-5 BUSINESS DAYS FOR PROCESSING BEFORE SHIPPING OUT. IF ORDERING BACKORDERED PRODUCTS ALONG WITH IN STOCK PRODUCTS, ALL PRODUCTS WILL SHIP TOGETHER WHEN BACKORDERED PRODUCT IS IN STOCK. IF YOU WOULD LIKE YOUR IN-STOCK PRODUCT SHIPPED SOONER, PLEASE PLACE SEPARATE ORDERS FOR IN STOCK AND BACK ORDERED PRODUCTS. 
ALL SALES FINAL. NO REFUNDS OR EXCHANGES