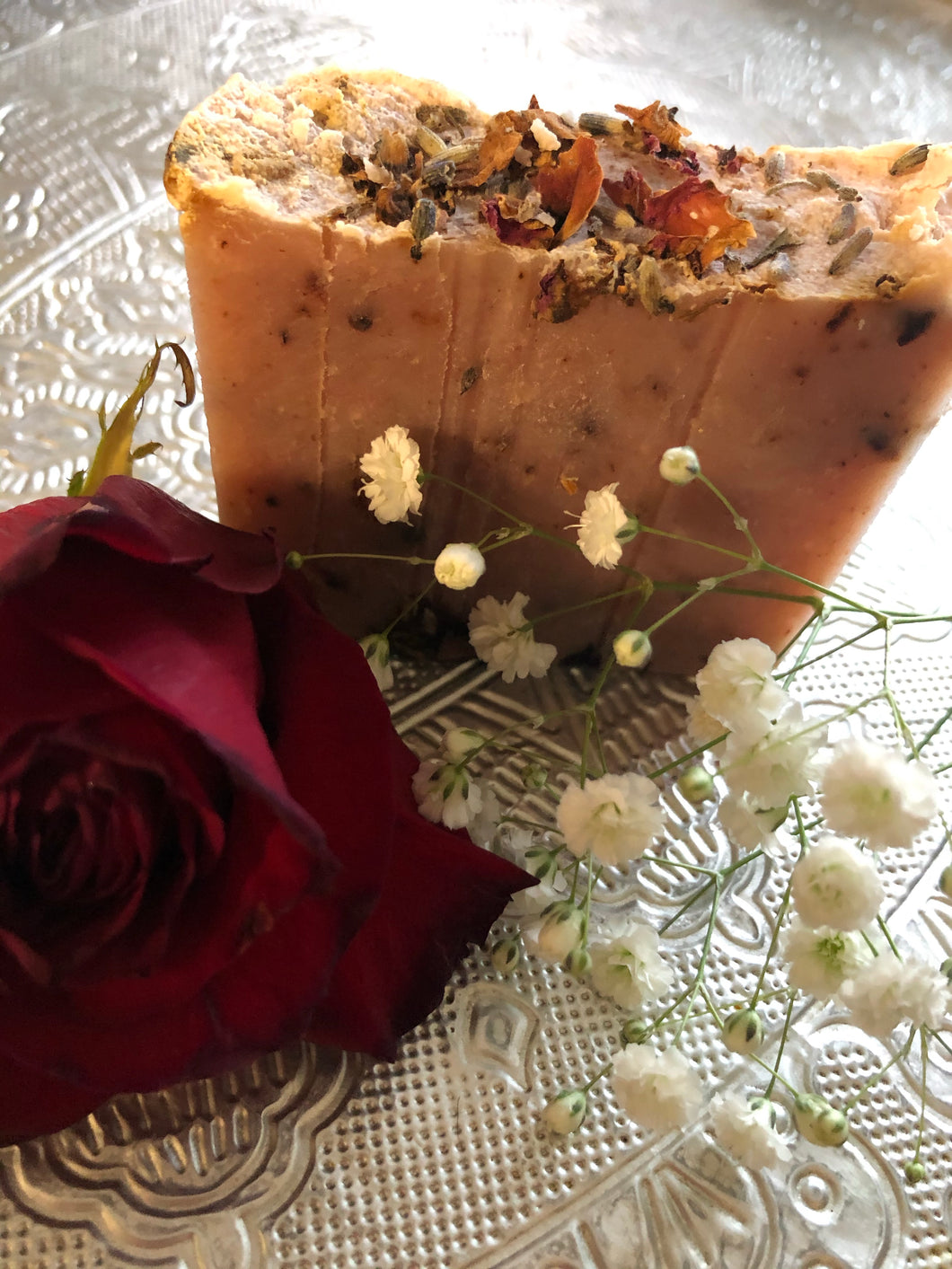 🌺🥭Garden of Paradise Hand Made Body Soap (Double Pack - 2 Bars)
Regular price $18.00 Sale
🌺This luxurious, moisturizing, anti aging body soap is made for a Queen in the Garden of Paradise. Handmade with all organic, sustainably sourced and fair trade saponified oils, skin healing turmeric and hibiscus flowers plus a heavenly fragrance oil blend of fruits and floral notes. Feel as if you're walking through a garden filled with juicy fruits and heavenly fragrant flowers. 
🌺🥭🌹Skin soothing and healing, anti inflammatory, anti fungal, anti microbial, antioxidant, acne fighting, brightens skin by bringing out healthy glow. In addition, hibiscus has anti aging benefits because it maintains elastin in the skin by decreasing the activity of elastase, an enzyme that breaks down our skin's natural elastin. 


🌺Hibiscus Fun Facts 🌺 The Hibiscus Flower has long been used as an aphrodisiac and to attract love, lust, passion and for prophetic dreams. In ancient Egypt, hibiscus flowers were associated with lust and it was believed that tea made with red hibiscus flowers and sepals could induce lustful cravings in women. As a result, for many centuries Egyptian women were forbidden to drink hibiscus tea. In India, the flower is associated with Goddess Kali Ma 🌺
INGREDIENTS: (All Organic Oils & Herbs) Saponified Extra Virgin Olive Oil, Coconut Oil, Shea Butter, Rice Bran Oil, Palm Oil*,  Palm Kernel Oil*, Hibiscus Powder, Turmeric, Hibiscus Flowers, Rose Petals, Lavender Flowers, Fragrance Oil Blend, Pink Mica, Love & Blessings. 
*Sustainably Sourced 
Free from harsh, toxic, skin drying detergents. 
All bars handmade and hand cut weighing approximately 3.5 ounces. 


*** SHIPPING: ALL PRODUCTS REQUIRE 3-5 BUSINESS DAYS FOR PROCESSING BEFORE SHIPPING OUT. 
** When ordering in stock products with back ordered products, all products will ship together when back order product ships. If you would like in stock products sooner than the shipping date of back ordered products, please place separate orders for in stock products. 
ALL SALES FINAL. NO REFUNDS OR EXCHANGES