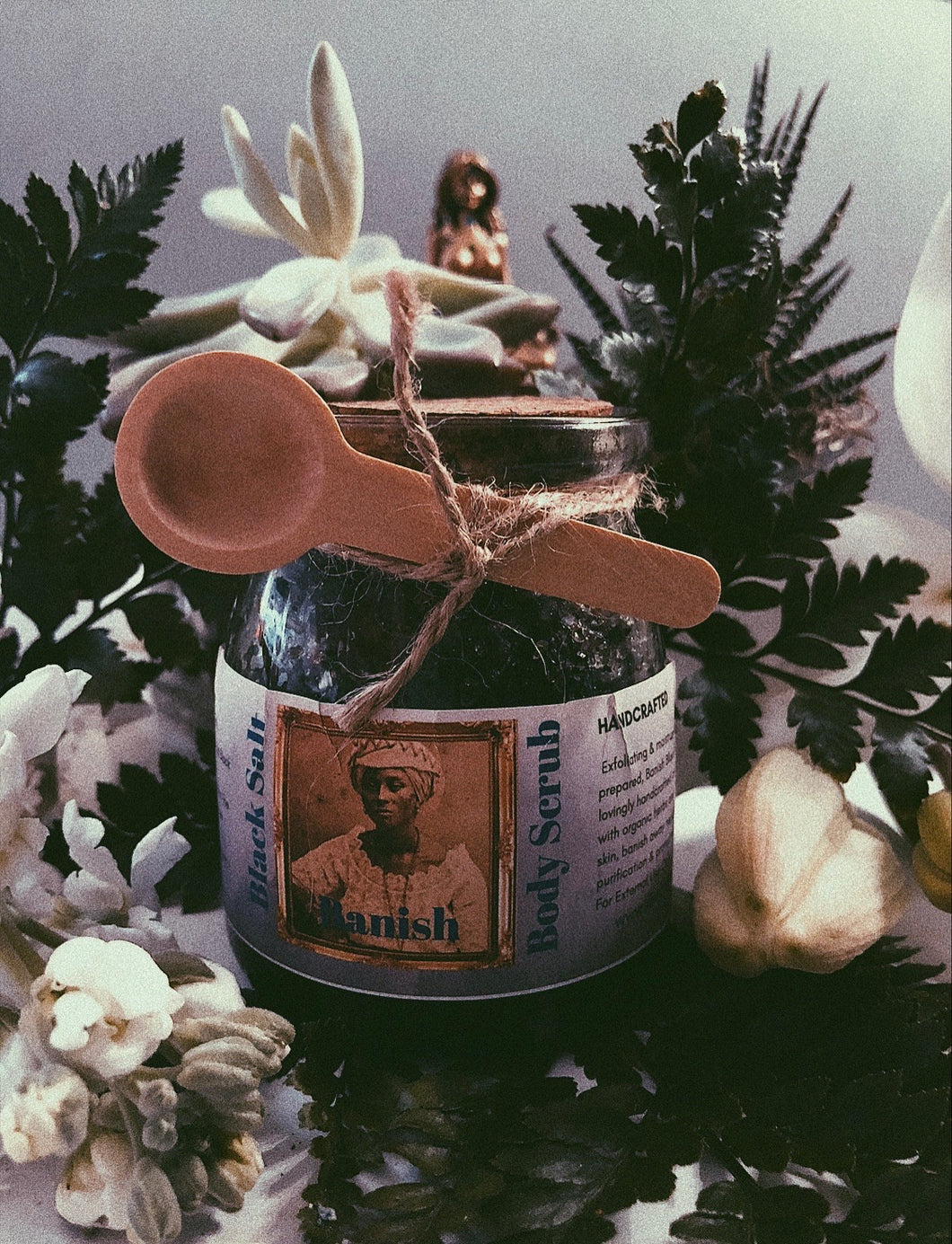 BANISH - Black Salt Body Scrub
Regular price $44.00 Sale
Banish away negative energy and dead skin all in one fell swoop! This exfoliating & deeply moisturizing Black Salt Body Scrub is lovingly handcrafted and ritually prepared, on the waning moon each month with organic herbs, oils and flowers that not only nourish the skin, but also banish away negative energy while calling in the energies of purification and protection. It is as much of a spiritual tool as it is a skin care product. 
Use during ritual bathing or showering or anytime your skin just needs a good exfoliation and layer of protection. Comes with reusable wooden spoon to scoop out. May also be added to a spiritual bath by dropping a few spoonfuls under warm running water. Excellent for spiritual healers & energy workers.
Suggestion: As you prepare your bath or shower, light a candle, clear your space, cleanse your body, and while uttering a prayer of release, call those things out that you would like to rid yourself of (aloud or silently in you head) and lovingly and reverently scrub away all that no longer serves you. Envision it being washed away down the drain, absorbed into the earth and then transmuted into love. Lovingly tend to your body with reverence & honor. It is the temple of the Divine. Give thanks for the lessons that the dark times have taught you. Call on your guides/angels/ancestors that are dedicated to your highest and best good to wrap you in a golden light of protection. Give thanks. 
Ingredients: Dead Sea Salt, Himalayan Pink Salt, Hawaiian Black Salt, Ritually Prepared Black Salt, Organic Extra Virgin Olive Oil, Rue, Hyssop, Agrimony, Rosemary, Mullein, High John The Conqueror Root, Lavender Flower, Rose Petals, Black Pepper, Dragons Blood, Essential Oils of Pine, Vetiver, Peppermint, Frankincense, Myrrh, Juniper, proprietary blend of phthalate-free fragrance oils + Love & Blessings. 
8 oz. jar with corked lid – small wooden spoon included 
FOR EXTERNAL USE ONLY
IF SKIN IRRITATION OCCURS, DISCONTINUE USE
BLACK SALT MAY STAIN TUB/SHOWER (May easily be scrubbed out)
BE MINDFUL THAT OILS IN TUB/SHOWER MAKE SURFACES SLIPPERY
*** SHIPPING: ALL PRODUCTS REQUIRE 3-5 BUSINESS DAYS FOR PROCESSING BEFORE SHIPPING OUT. IF ORDERING BACKORDERED PRODUCTS ALONG WITH IN STOCK PRODUCTS, ALL PRODUCTS WILL SHIP TOGETHER WHEN BACKORDERED PRODUCT IS IN STOCK. IF YOU WOULD LIKE YOUR IN-STOCK PRODUCT SHIPPED SOONER, PLEASE PLACE SEPARATE ORDERS FOR IN STOCK AND BACK ORDERED PRODUCTS. 
ALL SALES FINAL. NO REFUNDS OR EXCHANGES