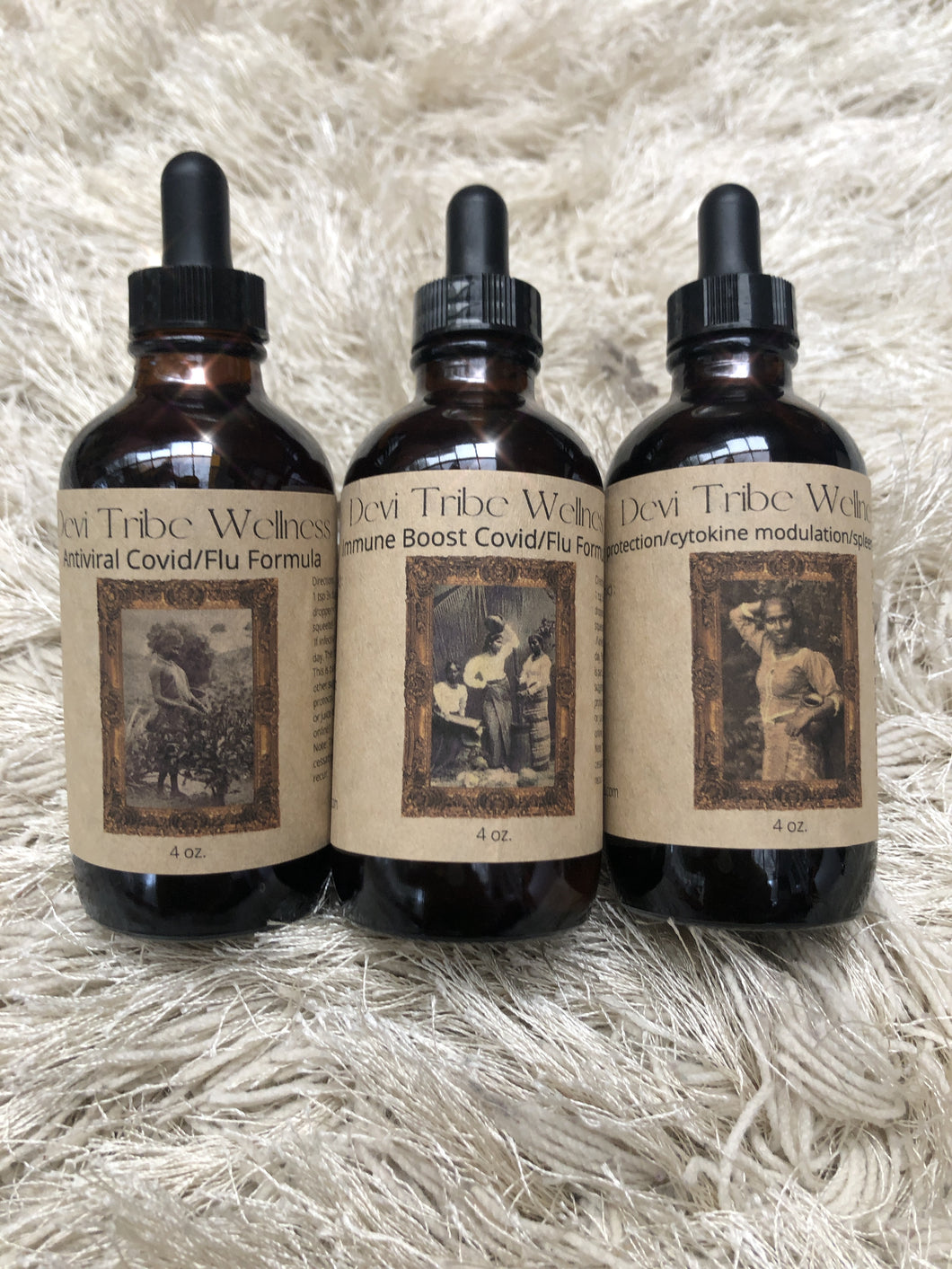 Herbal Covid Support Formula 4 fl. oz. each
Regular price $189.00 Sale
This powerful 3 tincture combo ( 4 fl oz each of Immune Boost Covid/Flu Formula, Antiviral Covid/Flu Formula & Cellular Protection/Cytokine Modulation/Spleen-Lymph Support Formula) is antiviral and specific to SARS-CoV group of viruses, protects ACE2 by blocking viral attachment, regulates and protects ACE2 expression and increases its activity especially in those who are older, an ACE inhibitor, modulates cytokine response, contains IL-1β inhibitors, IL-6 inhibitors & IL-8 inhibitors, protects endothelial cells, spleen, lymph nodes, strengthens the lymph system, protects lungs, heart, kidneys, and brain from damage.
We suggest taking this 3 tincture combo at the first signs of infection in addition to following the other important suggestions in our Covid protocol which you receive upon purchase. 


Three - 4 fl oz bottles 
(hydro-alcohol extract)
Ingredients: 
Immune Boost Formula: Cordyceps, Eleutherococcus senticosus, Rhodiola, Astragalus (hydro-alcohol extract)
Antiviral Covid/Flu Formula: Scutellaria baicalensis, Isatis spp., Pueraria lobata, Glycyrrhiza  (hydro-alcohol extract)
Cellular Protection/ Cytokine Modulation/Spleen-Lymph Support : Salvia miltiorrhiza, Gallium spp, Bidens pilosa
(hydro-alcohol extract)
Directions: Adults Take 1 tsp 3 x daily at onset. If infection becomes more acute (ie, more intense) take 1 tsp 6 x daily. The more serious the infection the higher the dose. 
Childrens dosage: Consult physician prior to using this formula for children. Typically for herbal formulations a child's dose is calculated by weight. This is done by dividing the child's weight by 150 (or 160) US pounds. For example if your child weighs 40 pounds give them 1/4 the adult dose if they weigh 50 pounds give them 1/3 the adult dose.
If you are pregnant or breastfeeding, have medical conditions or take pharmaceutical drugs, please consult with your health care provider before use.
These statements have not been evaluated by the Food and Drug Administration. This product is not intended to diagnose, treat, cure, or prevent any disease.
*** SHIPPING: ALL PRODUCTS REQUIRE 3-5 BUSINESS DAYS FOR PROCESSING BEFORE SHIPPING OUT. IF ORDERING BACKORDERED PRODUCTS ALONG WITH IN STOCK PRODUCTS, ALL PRODUCTS WILL SHIP TOGETHER WHEN BACKORDERED PRODUCT IS IN STOCK. IF YOU WOULD LIKE YOUR IN-STOCK PRODUCT SHIPPED SOONER, PLEASE PLACE SEPARATE ORDERS FOR IN STOCK AND BACK ORDERED PRODUCTS. 
ALL SALES FINAL. NO REFUNDS OR EXCHANGES